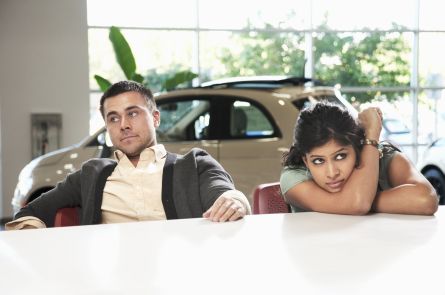 Sometimes, the fact that you've made a mistake is pretty obvious. Not applying sunscreen on a 40 degree day, for example: big mistake. Putting salt in your nan's cup of tea, rather than sugar: big mistake. Agreeing to watch that trashy reality TV show with your partner: now you're addicted and it was a big mistake.
When buying a car, however, mistakes often happen without us realising. This could be due to not asking the right questions, not talking to the right people first and not doing your research. The mistakes that happen when buying a car are more around what you don't do, rather than what you do. Here are 5 common mistakes to avoid when buying your next car!
1. Not investigating finance before purchasing
Ah, yes. A deadly mistake. Walking into a car dealership, having done hours of research on the make and model of car you want, including appropriate prices, yet having done absolutely zero research on finance. There's no point in having done all this research on your preferred car model if you haven't an idea about financing. This exposes you to the risk of getting conned at the dealership into accepting a car loan with high interest.
2. Not checking out a number of dealers
Shopping for a car isn't like shopping for toothpaste. You only need to visit one supermarket when shopping for toothpaste, whereas you should be in contact with many different dealers when shopping for a car. This way, you get a good idea of the make and model's worth, while being able to use other offers as leverage.
3. Not negotiating
Once again, shopping for a car isn't like shopping for toothpaste. You'd never try to negotiate with the poor checkout chick at the shops when buying toothpaste, but you should always haggle with car dealers.
4. Not questioning the extras
Dealers love to talk about extras when negotiating the final price of the car. Why? Because these add to their profit margins immensely. Things like window tints, paint protection and floor mats seem like convenient extras that they're throwing in for, what seems like, 'cheap', but actually you may be able to get these extras cheaper at an aftermarket auto shop.
5. Not consulting an expert
One of the deadliest mistakes to make when buying a new car is to assume that buying a car is easy. It's not. There are so many things to get right, and we haven't even scratched the surface in this post. If you're ready to purchase a new car, but you want someone in your corner, we've got just the solution for you:
Carbroker.com.au are Australia's leading team of car brokers and have been since 2003. They're not salespeople: they're brokers. They work for you when you're buying a new car, helping you find the best possible deal on the make and model you're after. With over 2,000 car dealerships across Australia in their database, Carbroker.com.au guarantee that you drive away in the best car for the best price.