Australia's Leading
Car Broker Since 2003
Loading Vehicle Picker...
Why do thousands of Australians choose Carbroker.com.au car broker and car buying service?
Click Here to find out!
About Carbroker.com.au
Carbroker.com.au deal with more than 2,000 car dealers across Australia. Our customers include some of Australia's largest insurance companies, thousands of individual private buyers and a multitude of companies – as well as other car brokers! Our car buying service cover all makes, including popular brands such as Mazda, Subaru, Hyundai, BMW, Volkswagen, Toyota, Ford and Holden. We have National Fleet arrangements with certain manufacturers to give our clients access to incredible discounts.  We specialise in finding discounts on cars, and we are very good at what we do. We leverage the use of innovative technology, expert knowledge and substantial volumes to bring you the savings usually reserved for large corporate buyers.
We are also a used car broker and have relationships with specialist automotive finance brokers that source the most competitive finance from a large range of lenders.
We cover every capital city including Sydney, Melbourne, Adelaide, Brisbane, Perth, Hobart, Canberra and Darwin.
Is this you?
Want to avoid the dealer tricks
Would rather not deal with car sales people
Finds the process of buying a new car to be tiring and stressful
Hates the phrase "I'll just have to check that with the boss..."
Dislikes the uncertainty as to whether a good price for the new car was achieved
Just wants to buy at the lowest price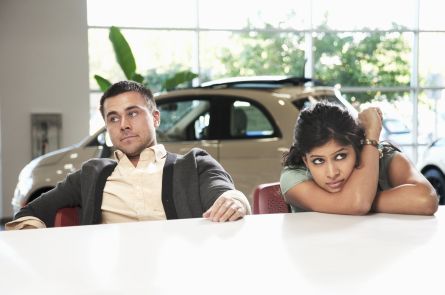 We can help you!
Make sure you get the lowest price on your new car.
Avoid getting hassled by sales people (and car brokers too for that matter).
Feel GOOD about buying a new car
Be secure in the knowledge that you got the best deal.
Remove the pressure and go at your own pace.
Get the highest price for your trade in.
Use our fully automated price inquiry system.
If you are ready to take advantage of our vast experience in the area of new car sales, you have arrived at the right place.
Carbroker.com.au car buying service is offering to achieve the lowest price on a new car guaranteed!
We operate on the basis of "never trust a salesman". We explain every single step in fine detail. You can choose to skip right ahead and get a price right now, or you can explore our site and find out how our new car buying service works. You may contact us any time via email if you have any questions that aren't answered already by our extensive site.
Whether it be a BMW, Ford, Holden. Mitsubishi, Renault, Volvo, Mazda or (almost) any other make - we cut to the bottom line quickly and effectively.
New way of buying a car
In the old days, the process was this:
Listen to your uncle give you all his car buying tips.
Visit a new car dealer. Haggle for price.
Repeat step 2 until too tired, or out of time.
Be tricked into thinking you got a great deal on your trade in, and a fantastic changeover price.
Sign paperwork.
Pick up the car from the dealership.
Suspect (one week later) that the mats and mud flaps you managed to squeeze out of the dealer are non genuine.
Notice (3 weeks later) that the build date of the car is six months ago. They sold you an old car!
Now the process is this:
Submit price inquiry at Carbroker.com.au.
Sign paperwork (at the dealer or via mail).
Dispose of your trade in car for the highest possible price using our unique MaxTrade method.
Have the new car delivered to your house by the dealer. (Optional. You may choose to pick it up instead).
Your new car will still be delivered from a dealer in your city. You may still choose to service your new car at your local dealer. Carbroker.com.au has just taken care of the following details:
Obtaining the lowest price (and ensuring there are no hidden costs).
Ensuring that the dealer supplies a car that meets your expectations. In other words: Make sure you get what you're paying for!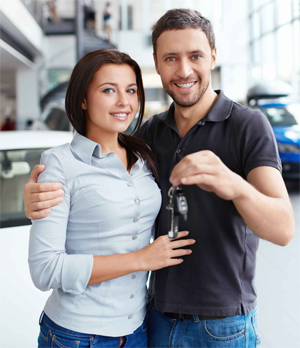 Discount Car Insurance
Not all car insurance companies are the same. You could save $100's on Comprehensive Car Insurance. Click the below button for our car insurance information.
Click Here
Testimonials
This is the very first time that I have ever bought anything via the internet, or ever done any business over this means, and so I want to specially thank you for honouring my trust. Yet you also did much more than that, you got me a far bigger saving, (over twice that which I imagined possible), with a good and reputable dealer, delivered at our nominated timing, and you displayed great patience with myself through the process. This is my wife's very first new car and she is absolutely delighted with it. So much so, that she has not even allowed me to have a drive of it yet. And so I guess we have all been winners, haven't we? And what could be better than that?
K.S., Brisbane
Delivering what you promise is the foundation of good business. I am sure that's why you sell so many cars for people like myself. Keep up the good work!
L.B., Sydney
I know what you mean when you say 'buyer's remorse'. I've had it each time I bought a new car except this time. It's a great feeling to a) get a great price b) avoid the huge stress. Seeing things from 'the other side' has made me a convert: This is the way to buy a car! Thanks for a great business.
M.W., Perth
Thank you for the service. The advice was good and the price reasonable. The dealer came to me at work both to value the trade in and to deliver the new car.
T.A., Melbourne
Thankyou very much Carbroker.com.au for helping us to buy our new car. We are very happy with the process of buying a car through Carbroker.com.au. We usually have big arguments over haggling so it was a great relief to get CarBroker to do all the hard work to relieve the stress on us and our marriage. And we still got a great price!
N&M, Sydney
I took delivery of the new car today. Until it actually happened I had a concern at the back of my mind that it was too good to be true to get the car at the price you obtained for me, with no catches. The dealer rep has been great and I have had no sense of getting cut price service to go with the low price. So, thank you. I am sold and based on my experience I am sure your business will continue to grow simply by word of mouth....mine will be among the loudest.
P.B., Sydney
...your professionalism and responsiveness is incredible... exceeding my expectations that were already quite high due to the information available, and style and tone of your website.
C.H., Brisbane
Chris, You are a champ. Your advice on the trade-in worked a treat. I have a buyer at $14,280. A cool $2280 above the original figure! Thanks mate!
B.M., Melbourne
Fast replies, great service and most importantly, extraordinary prices. Anyone buying a new car not using this service is not fair dinkum about getting the best price and probably paying too much. The service saved me thousands. Will definitely be using it again when next buying a new car and have been telling all my friends about it. Keep up the good work.
J.G., Perth
I am very pleased with the outcome, and I will certainly recommend it to my friends in the future.
D.F., Sydney